Kärcher Service
Customer service
The power of innovation
The name Kärcher is synonymous worldwide with quality and innovation. We have been setting the standard in cleaning expertise for 86 years. As the inventor of the high-pressure cleaner, Kärcher is today a world market leader and one of the driving forces behind technological developments in the field of cleaning technology. Every day our employees in research, development, production and sales ensure that you find the right solution for your cleaning task.
You will be supported by our customer service over the entire service life of your Kärcher machine. Wherever you need us, we or one of our service partners will be there to assist you on-site.

The Kärcher Service range
You work with professional cleaning machines? Then you have to be able to trust that your fleet of machines is fully ready for use at all times. That's why you need a partner who offers you more than just machines: reliable cleaning machines and cleaning agents, advanced technologies, expert consulting and training are essential. Moreover, you need a service range that leaves no stone unturned: with fast, reliable operational service on-site; with all of the necessary tools, spare parts and wear parts; and with ideally tailored packages for inspection, servicing and full service. In a word: Kärcher service. A service that gives you security. That's our promise!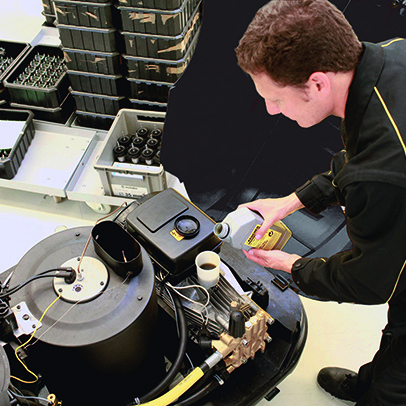 On-site repair
If you require a repair, we offer a fast, efficient, top-quality service. Our aim is to provide the fastest possible service to your utmost satisfaction. The service process described explains how efficient our service system is in the event of a machine fault. Customer service really can be that simple and inspired.
Repairs process
Do you need a repair?
Does your Kärcher machine require a professional repair quickly?
No problem! Simply get in touch by phone or email.


Appointments arranged quickly
We will arrange an appointment together with you. we will be with you as quickly as possible. The appointment will be confirmed with you by email or phone.


Straightforward repair
A specially trained service engineer will come to you directly to carry out the repair. Using the description of the fault that you have provided, we can ensure that any spare parts that are likely to be needed can be brought to the appointment. For a Kärcher-quality repair.


Immediate service report
As soon as our service engineer has resolved your issue, you will be sent a service report via email. This report will tell you what spare parts have been fitted and what has been repaired on your machine.


Simple process
Provided your repair is not covered by a Kärcher Service package or is not being carried out free of charge as part of the warranty, we will send you an invoice by email.



Your direct contact to customer service:
Telephone: +855 23 933 233