Cleaning parquet and laminate
Whether in the living room or bedroom, in the dining room or hallway: Wooden floors made of parquet or laminate create a homely atmosphere and, when compared to textile floors, are very easy to clean. What to pay attention to during cleaning and care and how to get rid of unsightly marks without damaging the expensive floor ‒ an overview of top tips for a beautiful wooden floor.
Parquet, laminate and similar: What should you pay attention to when cleaning these?
When it comes to wooden floors, a distinction is made between parquet, floorboards and laminate. Parquet and floorboards are made solely of wood, while laminate, in contrast, is made up of a mixture of materials with fibreboard. These covering types look quite similar, but have very specific properties: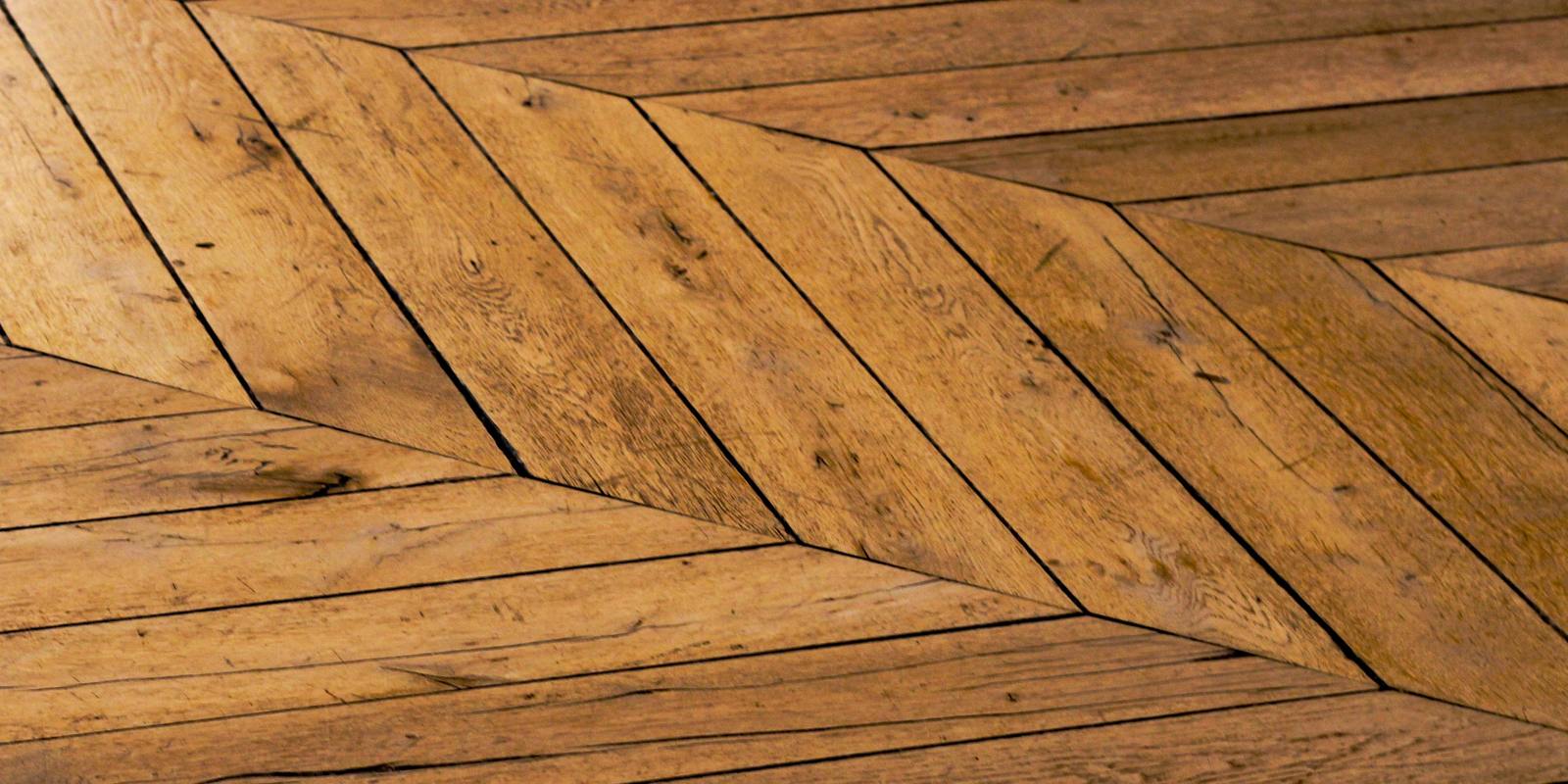 Parquet and floorboards
Parquet is available in different variations, for instance strip parquet, mosaic parquet or herringbone parquet. A floorboard is no different to parquet flooring, but its boards or planks are produced from wood to a regular length and are therefore significantly longer than the pieces of wood in a parquet floor. With both floor coverings, how the surface is treated is crucial: They are either waxed, oiled or varnished. Waxed parquet is treated with wax, whereby the wood is given a matt to high-gloss finish. Oiled parquet is treated with oil, whereby wide joints are better protected against moisture. Varnished parquet reduces the penetration of moisture and dirt, though this does not prevent water from getting into the joints and deep scratches. The parquet is therefore sensitive to moisture. This means that, when cleaning, it is important to ensure that as little moisture as possible remains on the floor. This is known as damp cleaning. Furthermore, wooden floors may swell or shrink, depending on the humidity.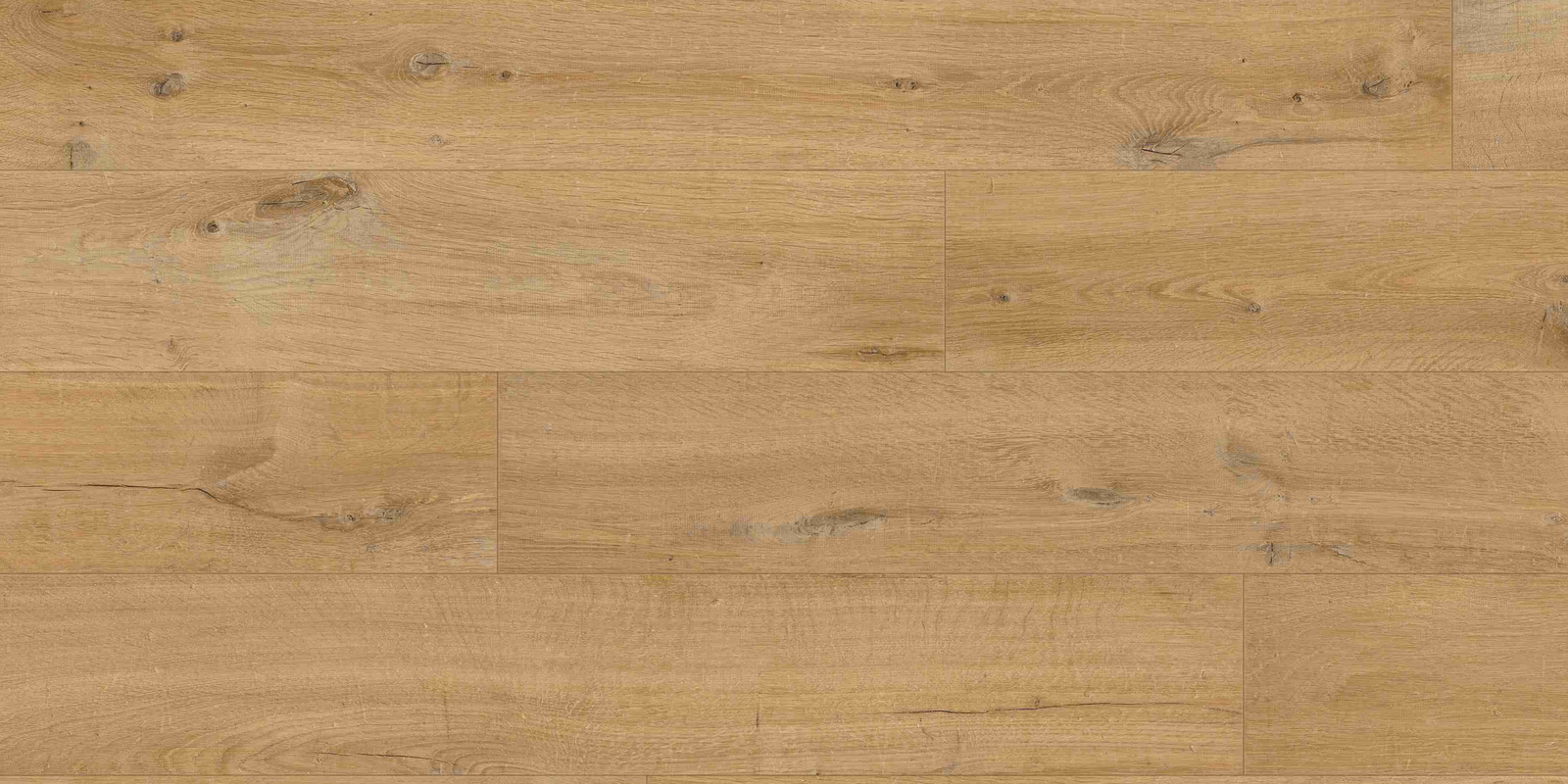 Laminate
Laminate is usually laid with a wood effect, but is also available with a tile or stone effect. It consists of fibreboard as a base layer, a decorative layer and a clear melamine resin layer on top, referred to as the overlay. The surface is scratch-resistant and is easy to clean. However, the edges are usually sensitive to moisture – especially if the laminate has been laid incorrectly. You should therefore only damp-clean this type of floor covering, as is also the case with parquet, i.e. with minimum moisture.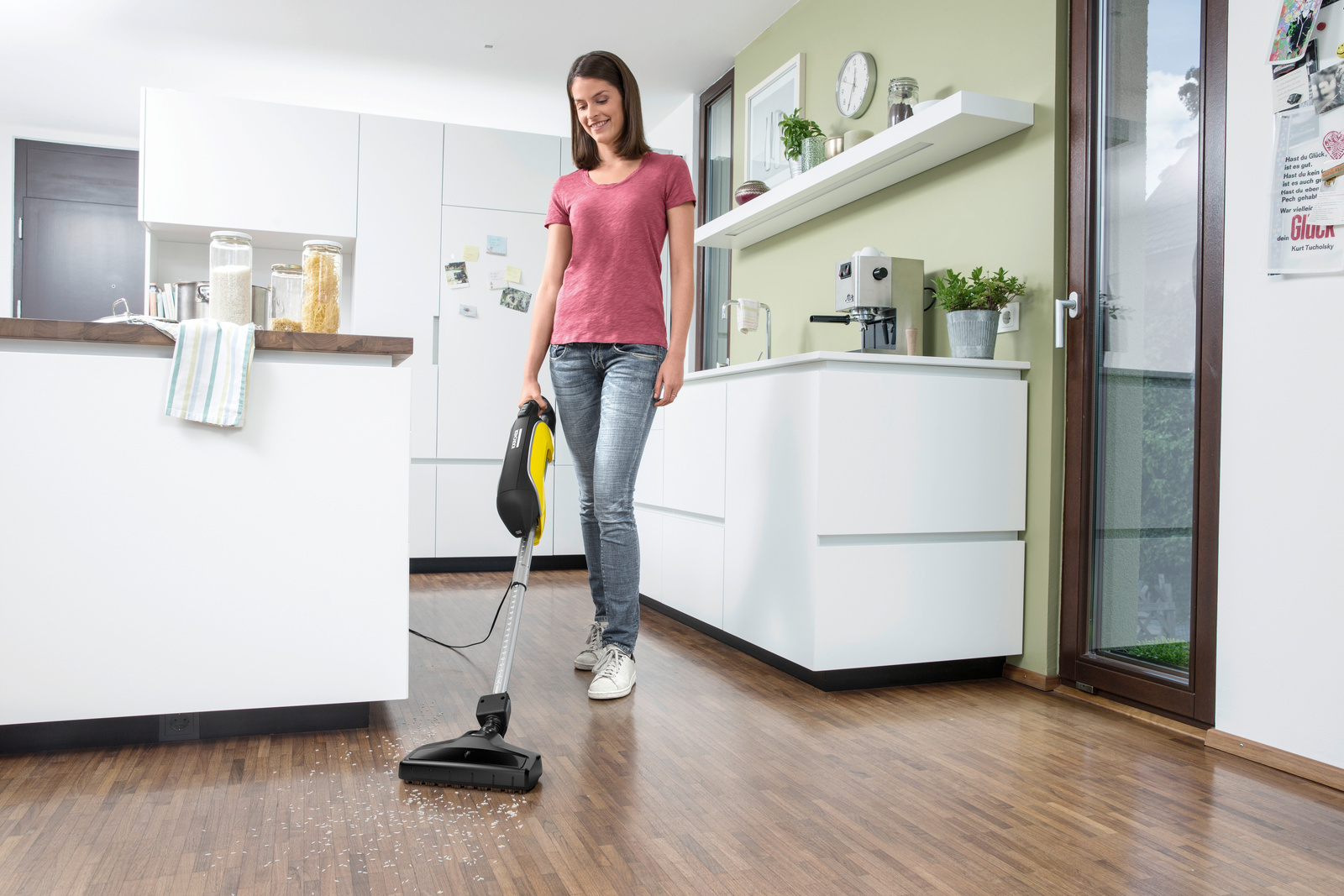 Dry cleaning with a vacuum cleaner and feather duster
Before wet-wiping, dust and loose dirt, such as pet hair, should be removed from parquet and laminate using a vacuum cleaner, a broom or a feather duster. Otherwise, the wiping water is mixed with the dirt, which causes streaks or even fine scratches on the floor when you wipe it.
When vacuuming wooden floors, it is important to use the right nozzle. Many vacuum cleaners have a special hard floor nozzle or an additional parquet nozzle. These are usually equipped with a small brush crown made from natural hair, which protects delicate wooden floors against scratches.
You can then start the wet cleaning – whether the traditional way with the mop, a microfibre cloth or using a floor cleaner. When working with a mop or microfibre cloth, it is important to wring it out thoroughly before wiping the floor, so that only a little moisture is left on the wooden floor and this dries up within a few minutes. When choosing a fabric for cleaning, it is preferable to use microfibre: These fibres have a reinforced mechanical action and bind the dirt, even when no detergent is used. With oiled or waxed parquet, a chamois leather or cloths made of viscose or cotton can be used in order to protect the wiped surfaces.
Damp wiping with floor cleaners
Since parquet and laminate are sensitive to moisture, it is important to use as little water as possible when cleaning them. Otherwise, the floor covering may swell and be permanently damaged. Special floor cleaners are suitable for gentle, damp wiping. They leave behind minimal residual moisture, which dries fully in just a few minutes. And the annoying task of rinsing and wringing the mop manually is a thing of the past.
Before wiping with a floor cleaner, you should remove dust and coarse dirt from the wooden floors. For models that also have a suction function, there is no need to pre-clean the floors with the vacuum cleaner.
You can then start the wet cleaning. The best way to clean is to add a detergent for wooden floors to the fresh water. While wiping, the floor cleaner should be slowly moved back and forth in overlapping strokes. This ensures that the floor is cleaned evenly and that there are no streaks. The wooden surface usually dries within two minutes. If, after this time, you can still see wet areas, we recommend drying this manually with a soft cloth.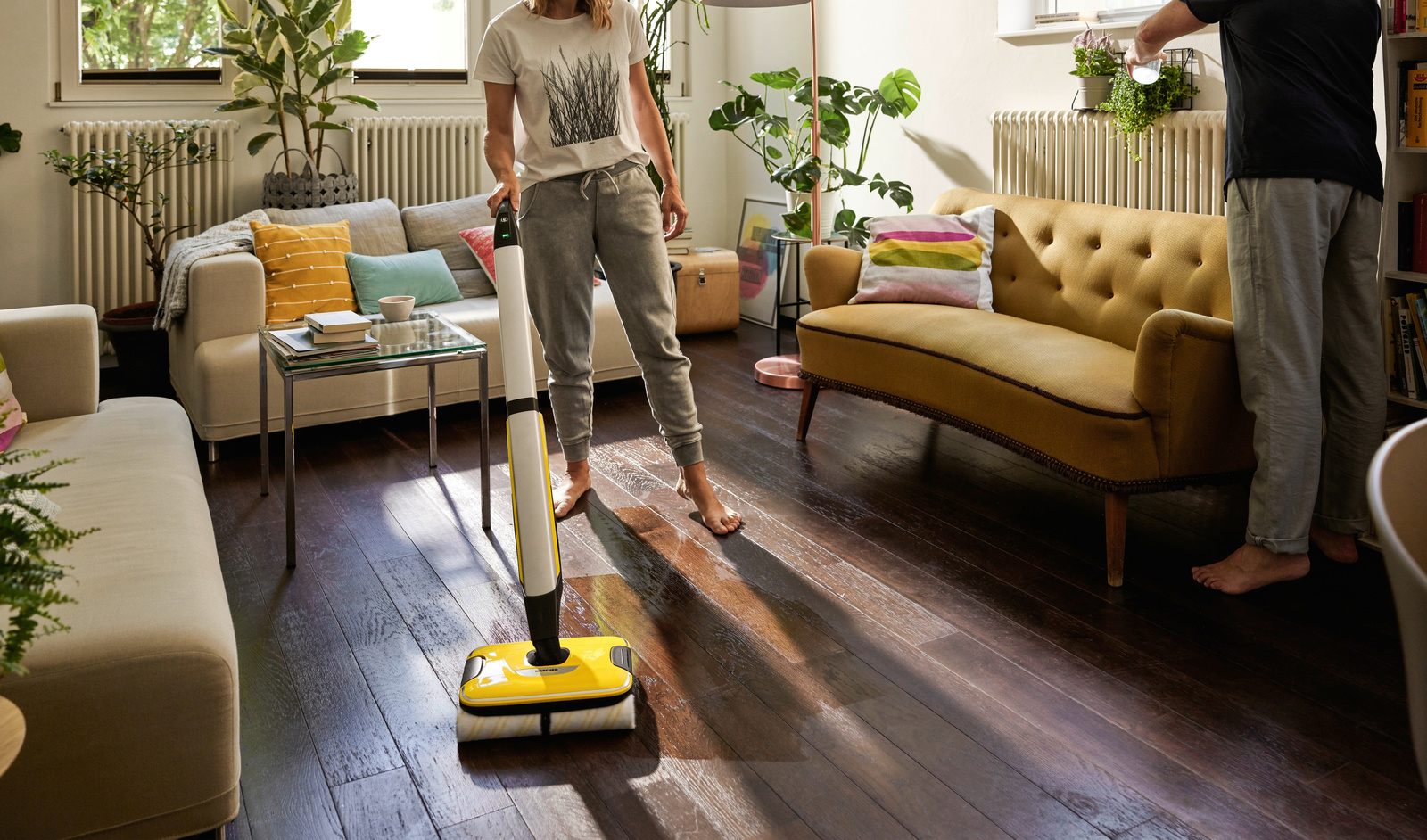 Tips for working with floor cleaners
It is best to work backwards towards the door. This prevents you from stepping on areas that have already been cleaned before they have had a chance to dry.
If there are residues of old detergent, this may affect the result. When using the floor cleaner for the first time, it may be necessary to treat the floor more intensively. You should therefore wipe the floor without detergent first so that any detergent residues can be loosened completely.
When changing to other surfaces, for example from laminate or parquet to tiles, you should first thoroughly rinse the rollers or even replace them with a second pair of rollers.
Do not spend too long cleaning one area so that the floor does not get too wet. 
In the case of oiled or waxed wooden floors, you should also avoid spending too long on one area as doing so could remove the oil or wax from the wood.
Delicate floors, such as untreated cork floors, should be tested for water resistance in an inconspicuous area.
Wiping parquet and laminate with the steam cleaner
Parquet and laminate floors can also be wiped with the steam cleaner. Use the floor nozzle with microfibre cleaning cloth for this and quickly move back and forth with short blasts of steam. In doing so, it is important to only use as much steam as is required to loosen the dirt. Furthermore, the nozzle should not be held over one area for too long so that no puddles are left on the wooden floor. If the steam flow can be regulated on the device, you should select the lowest steam setting. In general, wooden floors should only be cleaned with steam if they have been laid correctly and no moisture can penetrate the joints and the unprotected edges. Otherwise there is a risk that the floor will swell.

It all comes down to the detergent
To ensure that the wooden floor is not just clean, but also well maintained, a detergent that contains a maintenance component in addition to the cleaning component should be used for cleaning. The right equipment for a specific wooden floor depends on how the surface of the wooden floor has been treated: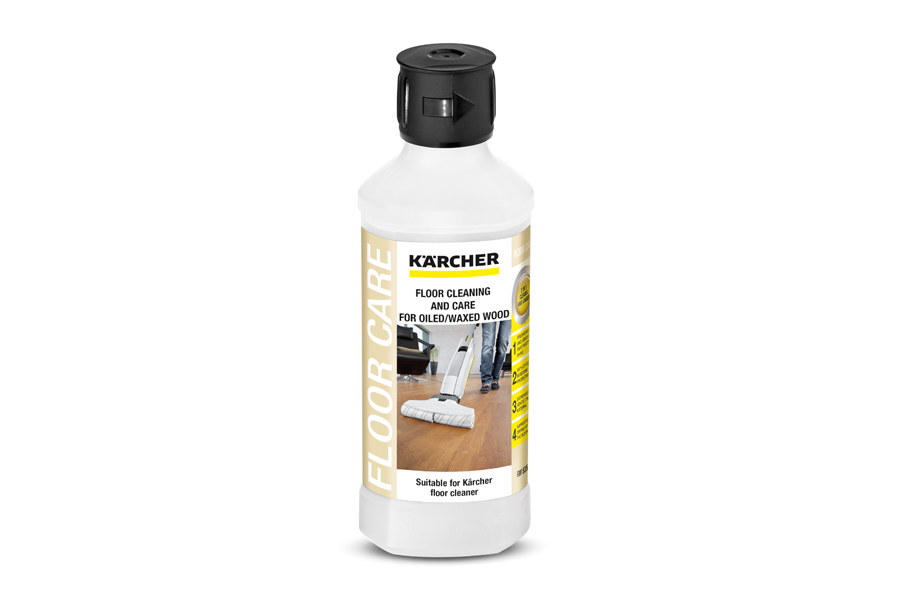 Varnished wooden floors: A cleaner with moisture protection is ideal for the thorough and gentle cleaning, refreshing and care of varnished wooden floors (parquet, cork and laminate). It has an impregnating effect, whereby the floor covering absorbs less moisture. The wood is therefore not only protected against swelling, but also against new dirt.
Oiled/waxed wooden floors: A cleaner with a special maintenance component that leaves behind a streak-free, semi-matt gloss and also protects the floor against moisture, is perfect for the cleaning and care of oiled or waxed wooden floors. However, in this case, you should also observe the dosing instructions since, in the case of frequent use of care agents, a sticky coating forms on the wood, which binds dust. You should not use alkaline detergents, such as multi-purpose cleaners, for oiled or waxed wooden floors, since they remove too much care agent from the wood.
If there are still streaks on the floor after you wipe it, you may have used too much detergent. Areas that are used less often turn grey first because an excessively thick protective coating binds with the dust here. These areas should be wiped first and only using water. Then use the wipe care to clean the areas that are used more frequently.
Tip: If you are unsure which detergent is suitable for your floor, we recommend testing it in an inconspicuous area. Additional information on cleaning and maintaining the respective floor covering are often also included in the cleaning and care instructions from the manufacturer of the floor covering.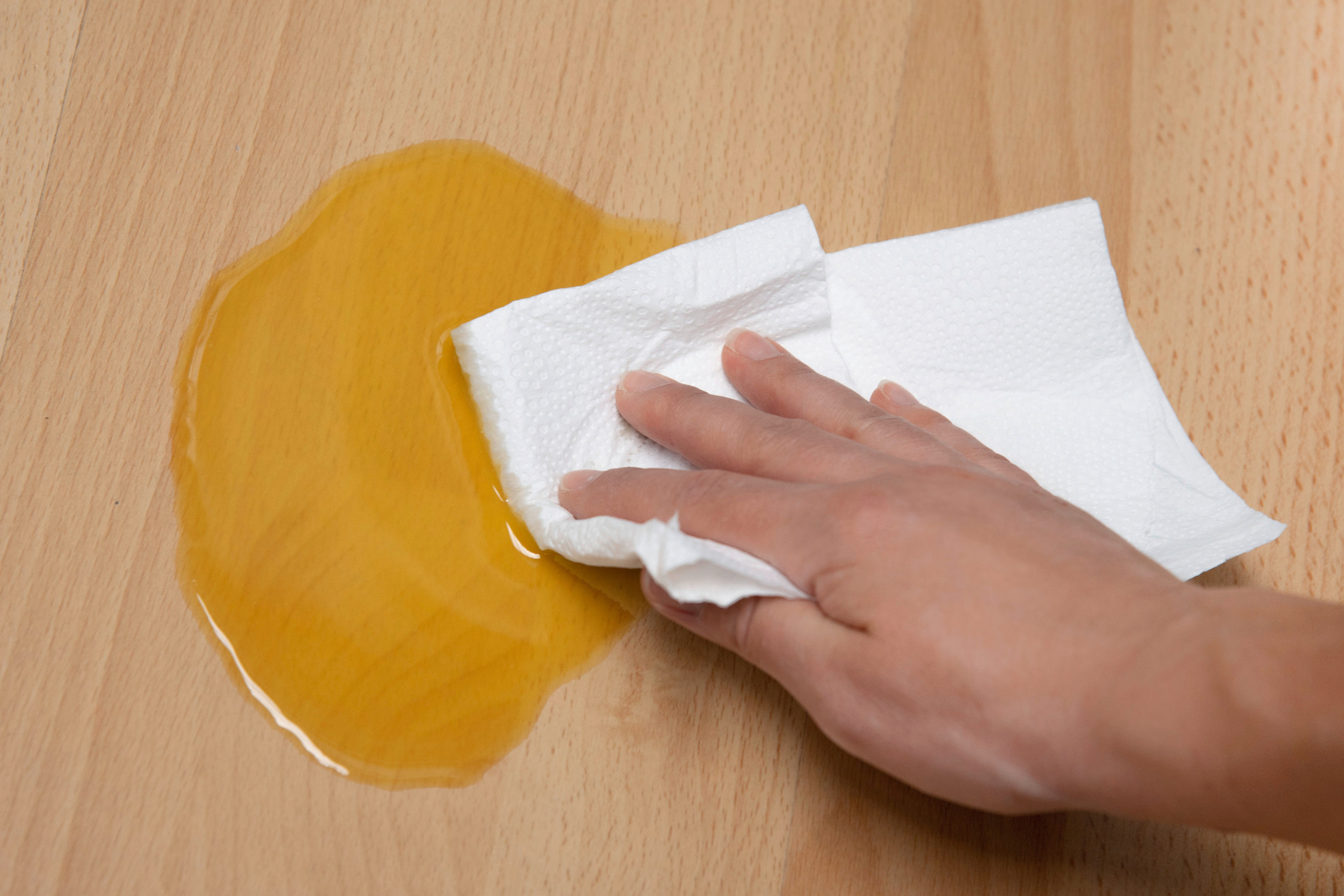 SOS: Removing stains from parquet and laminate
Stains on wooden floors can be divided into two categories: Stains on the surface and stains that have already permeated the wood.
As soon as liquids such as red wine or juice have been spilled on the floor covering, they should be absorbed using an absorbent cloth. Surface stains, such as food residue or scoring from shoe soles can usually be removed very easily using a slightly damp microfibre cloth.
For stubborn stains, the affected area can be treated with a universal cleaner. Alternatively, in addition to universal cleaners, household remedies such as water with washing-up liquid, a neutral soap or a little fabric softener, a dirt eraser or some methylated spirit to remove dyes, for example. Dirty areas should always be wiped in the direction of the wood structure and be wiped afterwards with water.
Stains that have permeated the wood are difficult to remove because the wax, oil or varnish often has to be removed first in order to reach the stain. In this case, often, the only remedy is to have the floor cleaned by a specialist company.


Suitable products for parquet and laminate
This might also interest you: