TWO WORLDS, ONE GOAL: PERFECTION
Kärcher at home on the patio. Kärcher in building­ cleaning. People most often think of these two areas of application when it comes to vacuum cleaners, high-pressure cleaners, etc. But it is hard to imagine everyday life without many Kärcher products, especially for workshops. Using the example of a construction site, we show where reliable cleaning technology matters and why, at the same time, the focus is on occupational safety and the protection of health. Also in the spotlight: how, over the last few decades, the model builder at Kärcher became the prototype engineer, and what traditional and modern craftsmanships there are all around the world.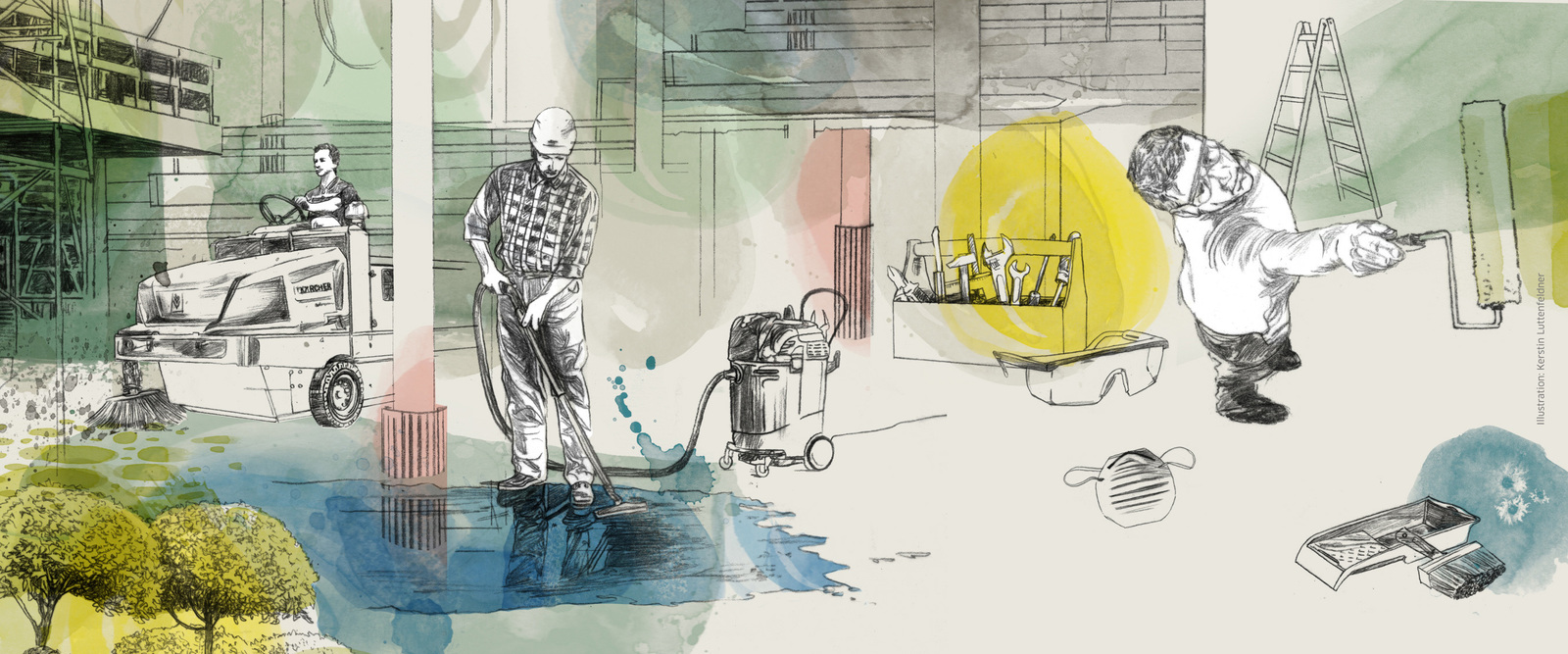 Clean construction trade: From structural work to dream house
Excavation for the floor slabs, pouring the foundation, building walls, covering the roof, completing all aspects of the interior fittings: when a building is constructed, various trades have to work alongside one another, sometimes under tremendous time pressure. So it is all the more important that the cleaning technology used does what is needed – at all times, reliably and even in the toughest of environments.
Important for health and quality: wet and dry vacuum cleaners for dealing with dust particle
One of the greatest enemies on every construction site is extremely small: dust. And it is everywhere. When joiners and carpenters are working on the roof or busy working on the interior construction, wood is sawn and cut. Holes are drilled, and the circular saw is only seldom not in use. Dust and chippings fall to the ground and are distributed in the air. As soon as the roof is ready, the electrician can get to work. In order to lay cables and lines, he must make slots in walls and floors using a cutter. Fine concrete dust falls from the crevices at every stage of the process. It's a similar story when the plumber starts the sanitary installations. Drilling and chiselling work takes place when pipes and lines are installed through floors and out into the open. Many kinds of dust are created at this stage, too – such as concrete, brick or plaster dust – before the bathrooms etc. are ready for use.
On the one hand, the fine dust particles get in the way of the work – if the worker can no longer see his hand in front of his eyes, then good quality can hardly be delivered. On the other hand, the fine dust is harmful to the worker's health as it sits in the lungs. Depending on the region, there are therefore strict regulations in place in order to guarantee the necessary occupational safety. The technology used should not only effectively combat the dust, but also make tough day-to-day work easier and not be an additional burden.
The cleaning machine of choice should definitely be a wet and dry vacuum cleaner because only these machines are able to deal with the mixture of dry and wet dirt that workers are faced with on construction sites. Even with these special vacuum cleaners, the filters clog quickly, which is why models with automatic filter cleaning facilitate uninterrupted work. If lightweight, robust and – where appropriate – battery-powered machines are selected, to which any power tool can be directly connected, then dust becomes a thing of the past.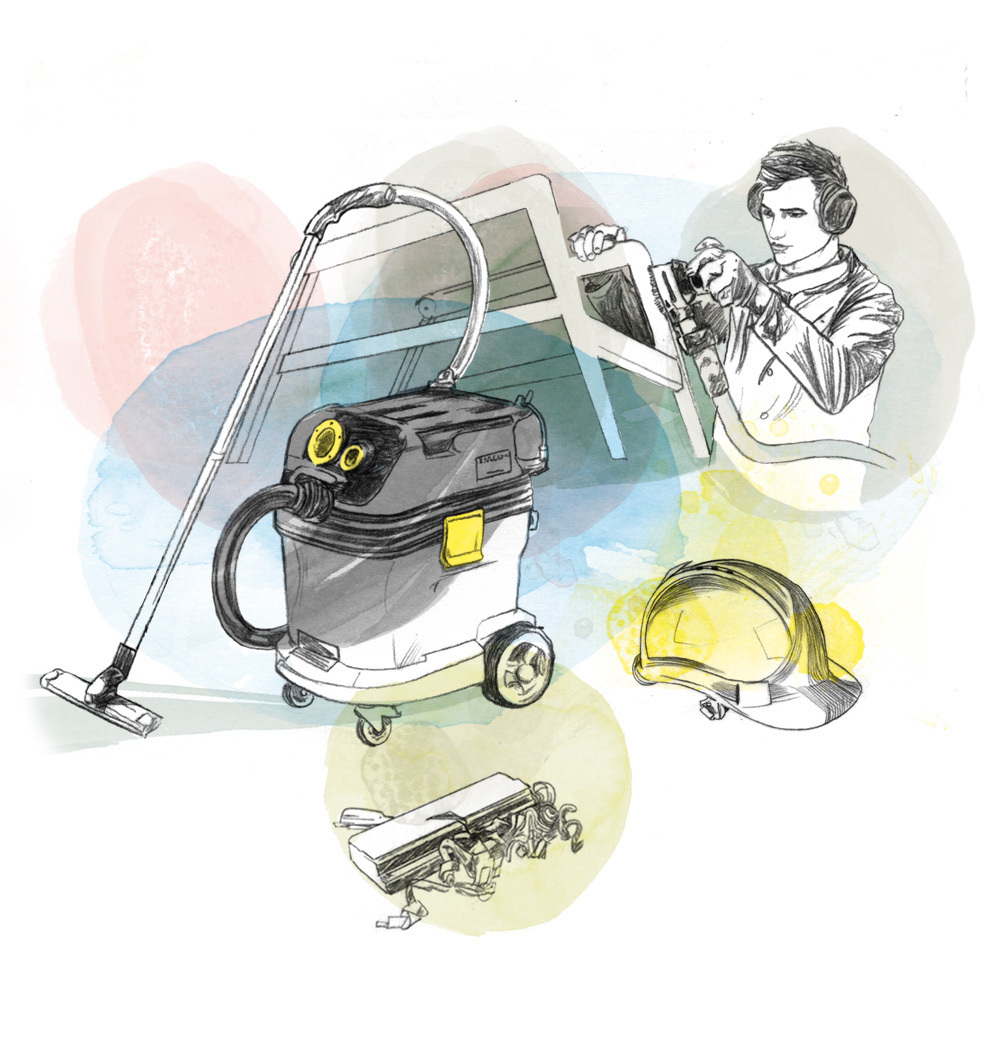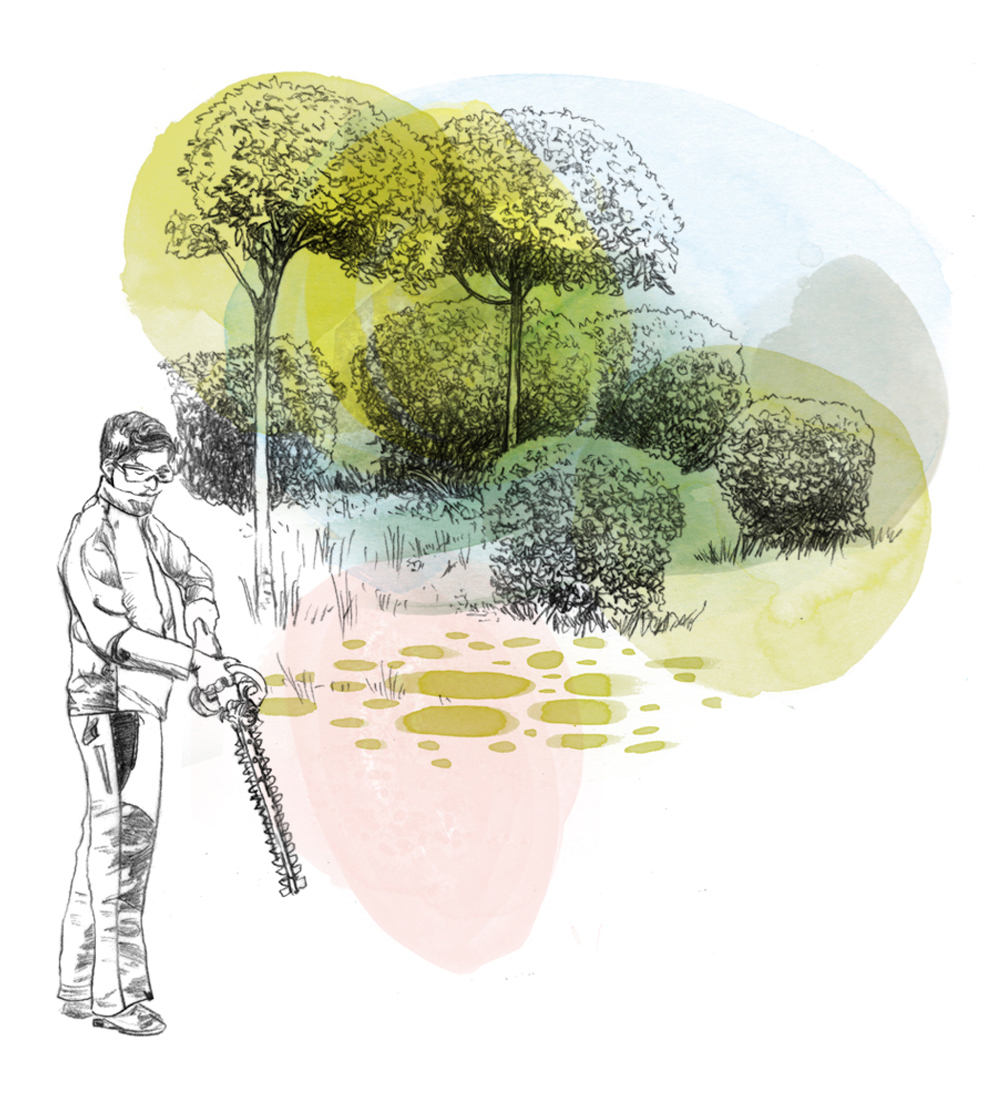 Final construction cleaning before moving in: vacuum sweepers and scrubber driers for all situations
Despite the tireless efforts of dust control technology, when all the work is completed, there is still always a great deal of coarse dirt around, such as splinters of wood or pieces of plaster. Such loose dirt, in both interior and exterior areas, can be removed using battery-powered push vacuum sweepers. If larger areas have to be cleaned, then ride-on or even industrial sweepers are much faster and more efficient in use. For interior cleaning, scrubber driers can then be used – depending on the area – in order to wet clean the floors with the advantage that the loosened dirt is picked up straight away, the floors are quickly dry again and are therefore safe to walk on. Now and then parquet layers are needed again at the very end, for example to seal wooden floors. With this final touch, the rooms are then more than well swept and therefore ready for occupancy.
The icing on the cake in green areas: landscaping and garden maintenance with battery-powered machines.
Depending on the property size, work on the house is accompanied by the creation of a beautiful garden. Landscapers arrange lawns, trees, bushes, etc. often in an artistic manner; flower beds and fountains or ponds are also planned. Strictly speaking, cleaning technology hasn't lost out on much here, but related machines certainly have. In order to give the surrounding green area the appropriate design, nowadays mostly battery-powered strimmers, chainsaws and hedge trimmers are used. They are much quieter and give off no emissions. Depending on the manufacturer, they also create much less vibration, which is more ergonomic for the operator overall and, in particular, puts less strain on the circulation. As the machines are very compact, even putting precise finishing touches to narrow, tucked-away corners of the garden is not a problem.
Value preservation for tools, etc.: high-pressure cleaners for dealing with coarse dirt.
On the construction site, not only workmen and cleaning technology are exposed to high stresses – the tools, machines or the scaffolding for the painting work also withstand dirt and continuous use. It is therefore important that every workshop keeps the equipment it uses in good condition and ensures the longest possible service life. Cold and hot water high-pressure cleaners of various sizes and performance classes are exactly the right solution for this job. The water volume and pressure can be set precisely to the respective requirement so that both gentle and powerful cleaning can be carried out.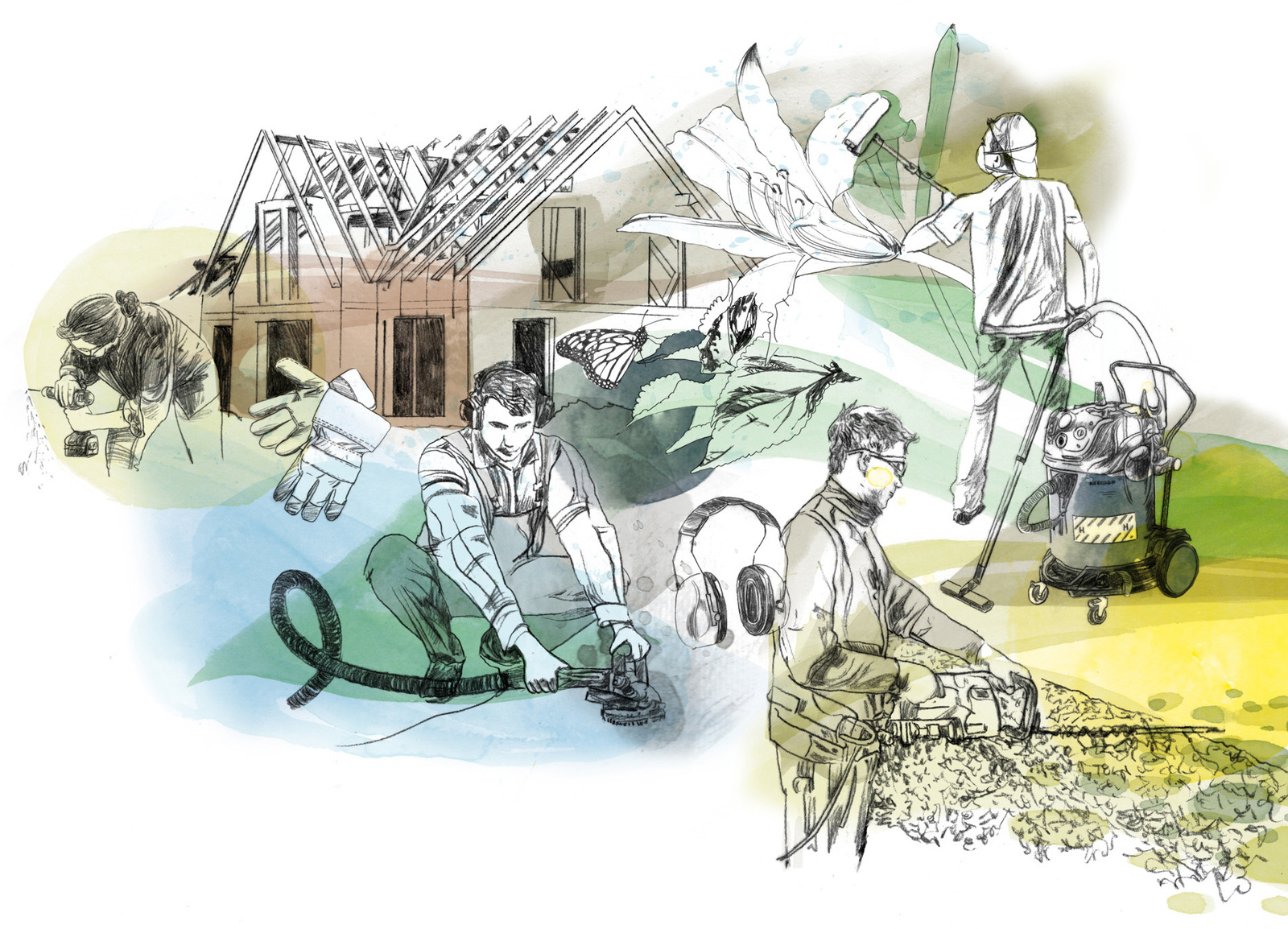 "From craftsman to programmer": The transformation of a craftsmanship – Interview with Achim Sanzenbacher, Head of Prototype Construction.
If you look at the world through the eyes of a prototype engineer, then above all one thing has changed in the last 30 years­: whereas in the past cars or coffee machines were square, today everything has curves and bevels – almost to such an extent that people want corners and edges again. How craftsmanship, technology and design have undergone a significant transformation at Kärcher – Interview with Achim Sanzenbacher, Head of Prototype Construction at Kärcher.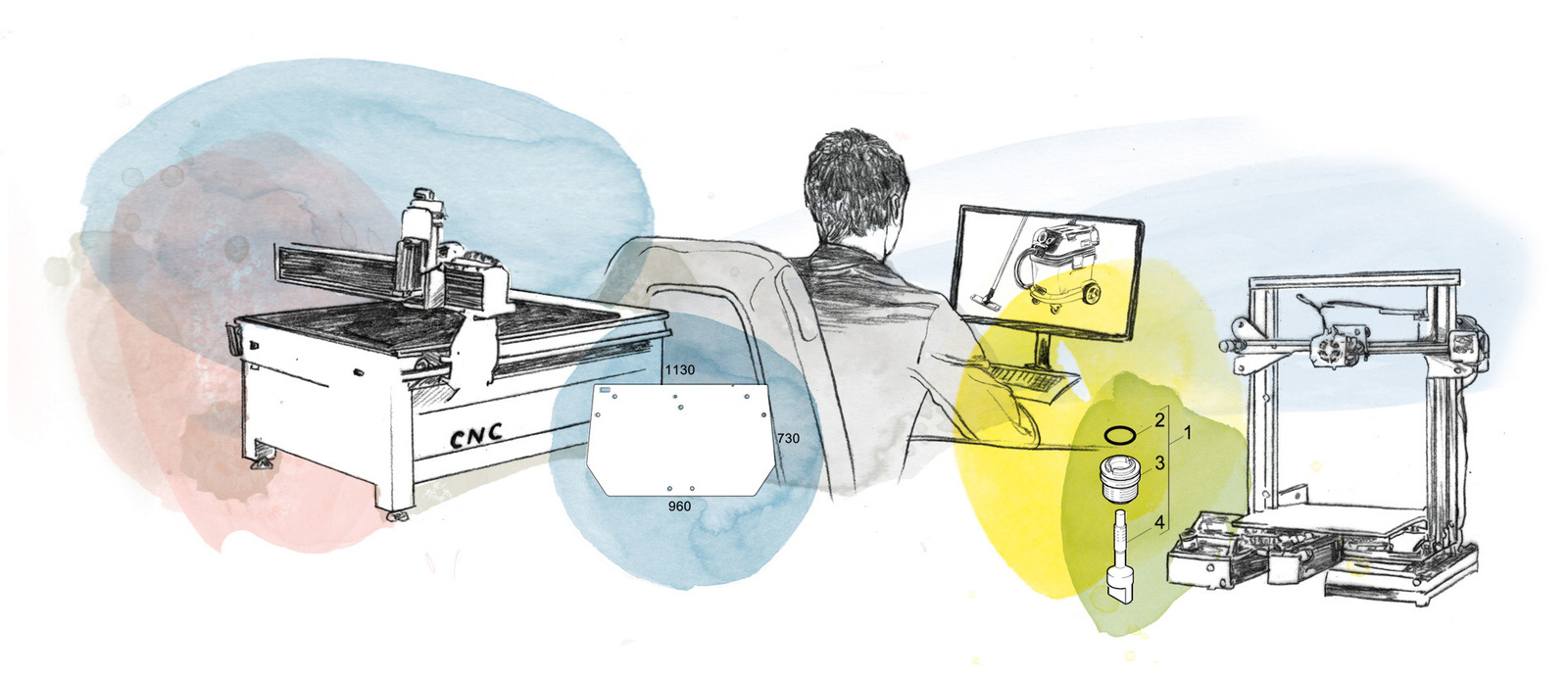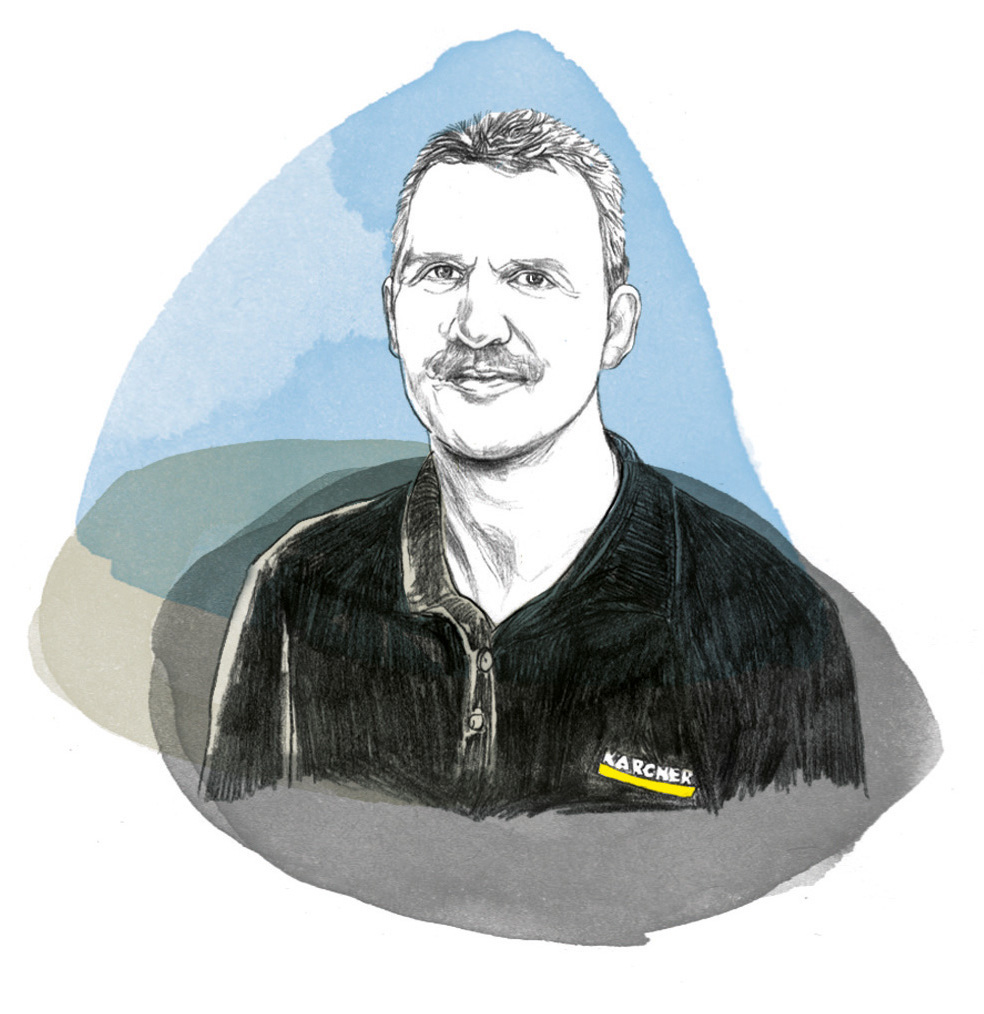 Mr. Sanzenbacher, you have been with Kärcher for 30 years now. How did it all start?
At that time I had completed my apprenticeship as a mechanic and was thinking about what direction I should take. In those days you either worked in the automotive area or as a toolmaker in industry. When I heard that Kärcher were looking for skilled workers, I looked into the opportunity – and we both quickly made up our minds, three days later I started in model assembly.
What was it like back then in model assembly at Kärcher?
There were 21 mechanics and painters, and all models for the entire building were manufactured in our company. We worked with heavy, handheld machines; sheet punch, lathe and milling cutter generated a lot of noise. I quickly qualified as a master. In the same period Kärcher also invested and provided us with a CNC milling machine. Compared to the conventional milling and filing, considerably faster work was called for.
What were the biggest cutbacks over time – how did the change from model making to prototype construction come about?
At the start of the 1990s computer-aided 3D design was introduced to development (Editor's note: CAD = Computer-Aided Design), thus allowing the creation of new shapes, curves and bevels in the planned products. We had to convert the CAD construction data and control the milling machines and lathes accordingly. In order to decode the data for the machines to some extent, we implemented a CAM programme (Editor's note: CAM = Computer-Aided Manufacturing). There were changes for us which involved a huge transformation: Apart from the classic trade expertise, the qualification as a programmer was now becoming increasingly important. This was necessary in order to keep pace with all changes both in the real and virtual world. In 1997 Kärcher was one of the first companies in Germany to purchase a 3D printer. In 1998 we manufactured the first components, so-called rapid prototyping was born. Model builder Achim Sanzenbacher, who started with the company 30 years previously, had now become a prototype engineer.
What significance has prototype construction for the company?
Our prototypes go to the test workshops for assembly so that new products can be built 1:1, as they are later expected to go into series production. The developers have the opportunity to identify optimisation potential in practice and make improvements. This type of product development has been tried and tested, which is why Kärcher has always invested a lot in the process and the individual steps. Today our team has access to four rapid prototyping systems and four machining centres in order to manufacture several hundreds of components per week for all areas of the company.
Thank you for the chat, Mr. Sanzenbacher.
International craftsmanship: From prayer beads to glass art
Craftsmanship is as old as the hills and state of the art – because we have enjoyed the gift of creating and designing things with our hands and using tools since time immemorial. Short stories about exceptional handicraft products all around the world.