Success from the modular system
A significant advantage for system planning is that all of the Kärcher components used have been developed specially for cleaning container interiors. This enables Kärcher to offer a wide range of modular and compatible components that can be configured to provide an optimal system solution for any application. The fact that our products are the culmination of many years of container cleaning experience and that we maintain the highest industry quality standards goes without saying.

Interior cleaning: everything revolves around the right head.
Kärcher interior cleaners are designed for universal use and the majority are certified according to ATEX 94/9. The flow rate and operating pressure can be adapted to suit individual requirements. Drive options are jet-propelled or by electric or compressed-air motor. The required rotation of the nozzles is achieved by positive rotation of the nozzle carrier in two planes. The large number of asymmetric teeth ensure a wide jet and intensive cleaning of the entire interior surface.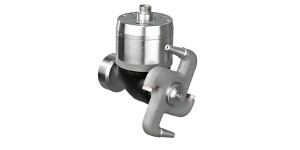 HKS 100 speed control
For openings from 200 mm in diameter: HKS 100 speed control with two or four nozzles and self-drive (recoil force principle). Suitable for containers up to approx. 40,000 l. Maximum working pressure 100 bar. Parts which come into contact with the cleaning media are made of stainless steel and can be cleaned with acids, alkaline solutions, solvents and acetone. Speed stability is ensured by the innovative further development of the hydraulic brake.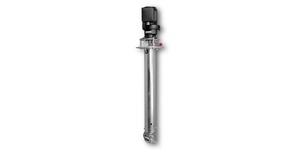 HKF 200
For openings from 200 mm in diameter: electric or compressed-air driven HKF 200 stainless steel interior cleaning head with two or four nozzles. With up to 200 bar pressure for large containers with a volume of up to about 70,000 litres. All parts coming into contact with the media are made of stainless steel for universal use of acids, alkaline solutions and solvents as well as cleaning media over a wide pH range.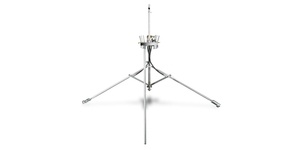 ICH 120/14 Ps F2 – folding frame
Jet-propelled interior cleaning head for industrial applications, mainly tank wagons with four to eight axles. Allows several process steps to be carried out in one motion: steaming via integrated nozzle, efficient high-pressure cleaning via jet-propelled heads and subsequent drying. And all this with unbeatable efficiency.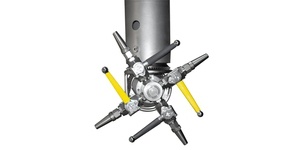 HKF 200 C2 – the all-rounder
Modified HKF 200. An interior cleaner suitable for both normal operation and "power operation". This cleaner can be operated with double the water flow rate and reduced speed via manual selection. This makes individual use possible, e.g. for tank and silo cleaning (normal operation) as well as for 20-foot container cleaning (power head).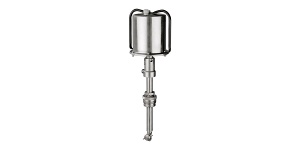 HKF 50
For openings from 50 mm in diameter: electric or compressed-air driven HKF 50 interior cleaning head for containers up to 3,000 litres at a pressure of up to 100 bar. Acids and alkaline solutions can be used as cleaning media over a wide pH range.
High-pressure pumps: High pressure for all needs.
Kärcher high-pressure pumps for tank interior cleaning are designed for use with water or solvents, acids and alkaline solutions. Special types are approved for use in hazardous areas. Pump capacities can be dimensioned to deliver different pressures and virtually any flow rates. Specific attachment kits can be used for universal application. Mobile systems are being increasingly used in the chemical industry, in particular for cleaning stationary mixing vessels and tanks with water-insoluble substances.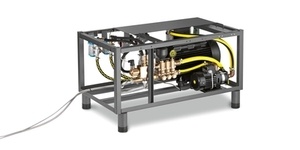 HDI 30/10 or 38/12 stationary high-pressure pump
These pump aggregates are the heart of tank cleaning systems. They are designed to give years of service in industrial environments due to the use of high-quality materials such as stainless steel and ceramics. Diverse attachment kits from automatic flow control, dual suction-sided detergent dosing unit to hot water operation (80°C) open up a wide range of applications.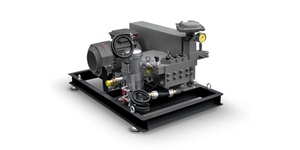 HDI 56/20 stationary high-pressure pump
Robust industrial pump, designed for interior cleaning of large containers such as tank wagons. Specific attachment kits from suction-sided detergent dosing unit, automatic flow control to hot water operation (80 °C) open up a wide range of applications.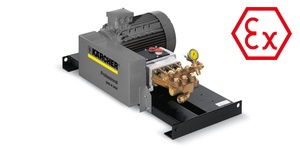 SHD-R 3000 S, SSR or LM stationary high-pressure pump
Belt-driven plunger pump for drinking water, acids, alkaline solutions or solvents as cleaning media. Specific attachment kits can be used for universal application. Also available as a mobile version.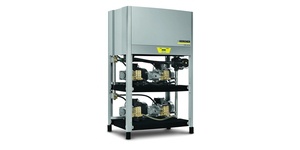 Stationary high-pressure cleaning with HDC Classic/Standard/Advanced
These stationary pump modules from the HDC product range are ideal for exterior cleaning. Detailed information about the product benefits is provided in a separate brochure.
Hot water generator: Hot water and steam from one source.
Rising energy costs and the wish to reduce CO2 emissions are key aspects in system design. For this purpose, Kärcher offers a range of specially developed modular components. To provide each and every one of our customers with the perfect solution, far-reaching options are available; these include heat recovery systems and alternative energy sources, for example.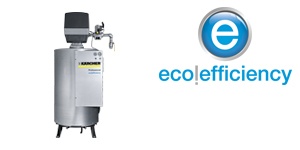 HWE 4000 hot water generator
Compact, type tested stationary hot water generator for oil or gas operation. This unique high-performance generator can be used for a temperature increase up to 90°C (160 bar and 4,000 l/h) or steam generation up to 140°C (20 bar and 2,000 l/h). The modular design allows expansion to spray jet operation with attachment kits. The HWE 400 hot water generator has been designed for and made from materials for industrial use. Examples are the TÜV-approved stainless steel coil and simplified initial startup. The new modulating gas variant simplifies the adjustment of individual temperature settings. This offers energy-saving potential even with flexible water supply temperatures (for example, when using wastewater heat exchangers).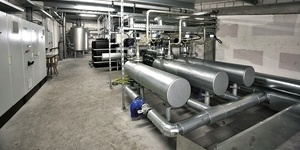 WT 560/1100 heat exchanger
TÜV-approved stationary high-pressure counterflow unit for hot water generation with saturated steam. Designed for a temperature increase up to 95°C. High-quality industrial materials and processing ensure a consistently high level of operational safety with low operating costs.
If no steam is available locally, a steam boiler can be incorporated into the system solution.
Control, monitoring and documentation.
The innovative control concepts from Kärcher reflect the current industrial standard. In order to maintain the high standard of quality of Kärcher products, only the components of renowned manufacturers are used. Each control is custom-made and developed specifically for this particular system: whether relays or PLC control, manual or automatic mode, data recording or networking.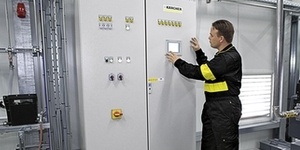 PLC control
The system is controlled by sophisticated and specially designed software via a freely programmable control system (PLC). The control and system concept includes various options that allow individual adaptation to customer-specific conditions.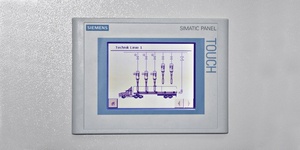 Touch panel
An optional operator-friendly touch panel allows monitoring and adjustment of control parameters as well as the display of error messages.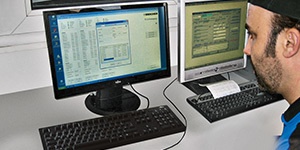 Cleaning Data Management (CDM)
Kärcher CDM software records operating times, consumption and individual parameters during the cleaning phase. This data is stored in a Microsoft Access file for customer-specific evaluation and can be printed out at the end of the program.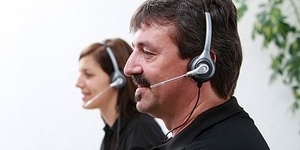 Teleservices
Every system can be networked via an ISDN data line if required. This allows timely access to the control in order to carry out software updates and make use of online support, if required.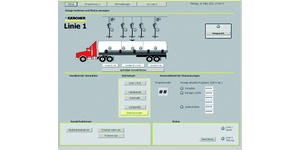 Control/System visualisation
Kärcher covers the entire system control spectrum: from controllers for small systems with simple control logic (relays) to large systems with complex cleaning requirements (PLCs), including a wide variety of options. The touch panel serves as an operator interface. PC system visualisation improves operating convenience.
Separate PC in control room with interface and software package.
Visual display of active components.
Versatile due to the option of parameterising up to 7 automatic programs.
Accessories and cleaning agents.
Kärcher system solutions are the culmination of perfectly matched machines, accessories and cleaning agents. Versatile accessories such as a softening, suction or pressure-sided detergent dosing unit or effective drying systems open up unknown application areas. Areas outside the container can be cleaned with lances. Fall protection and earthing systems ensure vital process and work safety.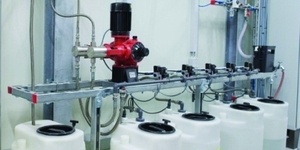 As much as necessary, as little as possible
Kärcher offers reliable tried-and-tested detergent dosing solutions as well as innovative processes for reducing detergent consumption. Standard detergents are added on the suction side. Aggressive detergents are dosed directly into the high-pressure line. The use of chemicals at low pressure with subsequent high-pressure cleaning extends the contact time and is very efficient.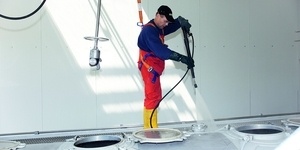 More cleanliness, more safety
An extensive range of accessories is available for cleaning domed covers and the outside of tank and silo vehicles, e.g. patented power nozzle for unexcelled cleaning results.
Work safety devices such as fall protection, whether individual or collective, are already taken into account during the system planning and engineering phase.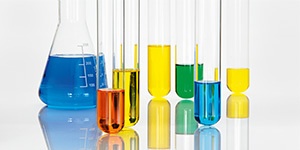 The right cleaning agent
Kärcher has many years of experience in the development and production of cleaning agents and is therefore able to offer cleaning agents to suit specific applications - advantages are taken into account in the system planning phase. Cleaning performance, working time, dosing or recycling and disposal can be taken into account in advance.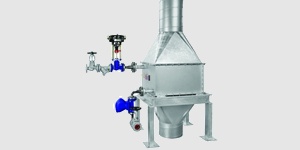 Hot air or cold air
Kärcher hot air generators can be used for blowing hot or cold air into tanks for fast results.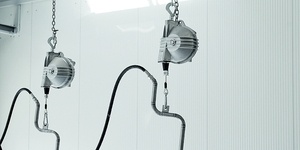 Hoists for cleaning heads
Electric and pneumatic hoists as well as low cost, manually operated balancer systems are available for handling the cleaning heads.
ATEX certification
All Kärcher system controls and the majority of interior cleaners as well as a number of high-pressure pumps are ATEX-compliant.