References – worldwide.
Leading engineering, sound advice, excellent products "Made in Germany" and extensive services are values that make Kärcher a reliable partner for tank and container cleaning. Established companies and market leaders rely on the know-how and innovative products and services of Kärcher worldwide.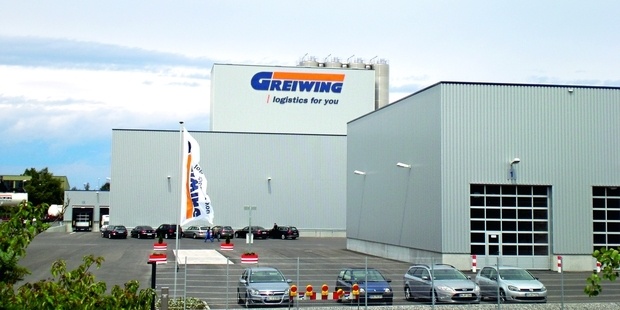 Greiwing Logistics/Germany
As one of Europe's leading providers, Greiwing offers complete tailor-made solutions across all areas of silo logistics.
Ultra-modern cleaning systems for tanks and silos, and specially trained, experienced staff ensure the highest standards of silo cleaning.
As a member of the DVTI (German association for tank interior cleaning), Greiwing issues the European Cleaning Document (ECD). SQAS approval also guarantees a high standard of work safety, quality and environmental protection.
In 2012, the global logistics service provider from the Westphalian town of Greven opened a public cleaning system for silo trailers at its new site in Leipheim.
With two cleaning lines featuring cleaning heads, hot water generation via an HWE 4000 E, chemical dosing and a drying facility, the Kärcher system is designed for interior cleaning of silo trucks. Up to 40 trucks per day can be cleaned here quickly and efficiently.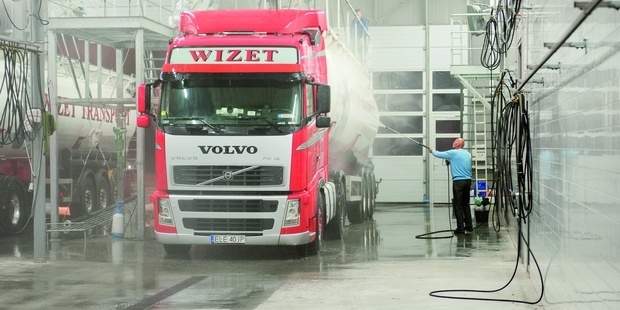 Wizet Transport Sp. z o.o./Poland
Wizet Transport Sp. z o.o. is a company with 60 road tankers and provides services for the global transportation of liquid substances. The company is headquartered in Łęczyca (central Poland). The tank cleaning system was put into operation in April 2012 and is used both for the company's own vehicles and for commercial purposes.
The main components of the TSC cleaning system for road tankers are:
5 HKF 200 E interior cleaners
5 HDI 38/12 high-pressure pumps
High-pressure heat exchanger
High-pressure detergent dosing unit
Control system
Setting the cleaning programme via PC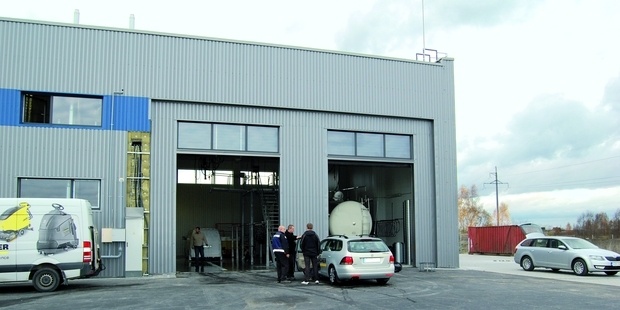 Gaisre/Lithuania
The company Gaisre was founded in 1992 and operates mainly within the international transport industry.
As a member of Lithuania's national logistics association, Gaisre offers high quality standards.
A modern tank interior cleaning system was built in 2013 for cleaning the large vehicle fleet.
Both cleaning lines are equipped with three HKF 200 E spray heads. These interior cleaning heads are supplied by three 100 bar HDI 30/10 high-pressure pumps. Hot water and steam are generated by two HWE 4000 Gas hot water generators. The high-pressure detergent dosing unit works precisely and ensures long working times for the high-pressure pumps. A drying unit with gas burner is used to generate hot air for drying. The control system was adapted to the customer's individual requirements.
All of the components used meet the high quality standards of the industry, setting Kärcher tank interior cleaning systems apart and ensuring smooth operation.
Resource-conserving energy use was also taken into account when designing this system solution.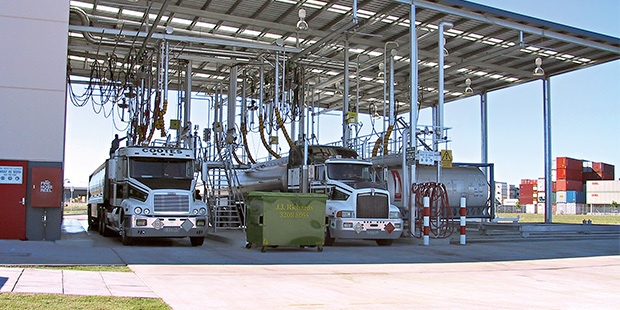 Australian Terminal Services/Australia
The company Australian Terminal Services, a subsidiary of the Australian industry leader Transpacific Industries Group Ltd, commissioned Kärcher to build a large cleaning system in Queensland in 2001.
The system was designed specially for road tankers, 20 ft containers and small containers. It consists of three cleaning lines. Two cleaning lines for road tankers and one for 20 ft containers. Up to four chambers can be cleaned with simultaneous cleaning steps on the road tanker cleaning lines.

The system is controlled by a PLC and in-built operator panel. The operator can configure up to five automatic programme sequences per cleaning line.
Interior cleaning works automatically and has an optional two-slot detergent dosing unit on the high pressure side. Exterior cleaning is carried out manually and has an optional two-slot detergent dosing unit on the suction side.
Cleaning lines and individual cleaning steps can be selected at will via remote control. The hot air drying facility can dry up to five tank chambers per cleaning line.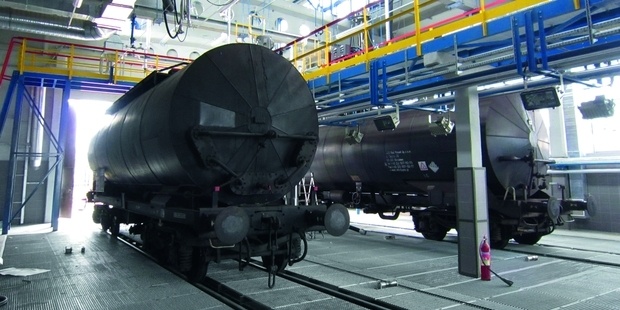 LOTOS Kolej Sp. z o.o./Poland
LOTOS Kolej tank wagons are now washed by a new TSC system from Kärcher.
The LOTOS Group is one of Poland's largest companies. The oil company operates both in Poland and abroad. Its field of activity covers extraction and processing of crude oil, as well as trading high-quality oil products.
As part of the LOTOS Group, LOTOS Kolej is responsible for transporting products and delivering oil to the refinery in Gdańsk. Regular cleaning of the tank wagons is required, for example, for repairs and servicing.
Cleaning at this site used to be carried out using a medium-pressure system. With a view to increasing efficiency, the customer decided to invest in new cleaning technology.
The system, which was completed in May 2012, includes two cleaning lines with six HKF 200 K2 interior cleaners. These are supplied by a total of 10 HDI 38/12 high-pressure pumps. Warm and hot water can be generated using any of the three high-pressure heat exchangers and one low-pressure heat exchanger. The high-pressure detergent dosing unit works precisely and ensures long working times for the high-pressure pumps. The PLC control system was tailored to the customer's individual requirements.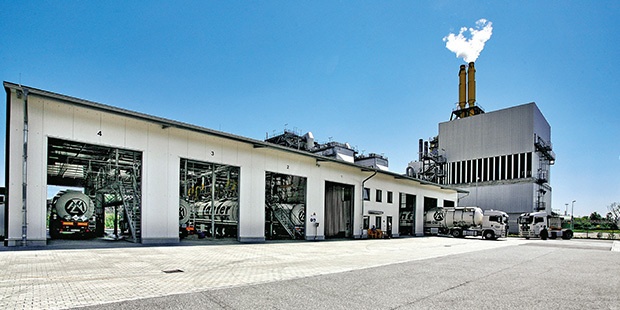 Lanfer Logistik/Germany
Lanfer is a leading international, highly specialised transport and service company for handling, service and storage in the chemicals and food sectors.
In addition to transport and logistics, Lanfer offers a full range of HGV services. The service portfolio includes:
State-of-the-art certified Kärcher interior cleaning systems
Several cleaning lines with high-pressure spray heads and separate steam connections
Tank drying using dry, sterile air
Exterior cleaning
Workshop, spare parts and accessories stockist
In order to meet the increased demand for tank interior cleaning and professional, energy-saving interior cleaning, the existing Kärcher cleaning systems in the Meppen and Salzbergen sites were modernised and expanded in 2007/2008.
The main features of the expansion were the Kärcher high-pressure pump technology and patented Kärcher booster heaters (which are more energy-efficient); additional interior cleaning heads, a drying facility and the new steam boiler for steaming and heating tankers completed the modernisation work.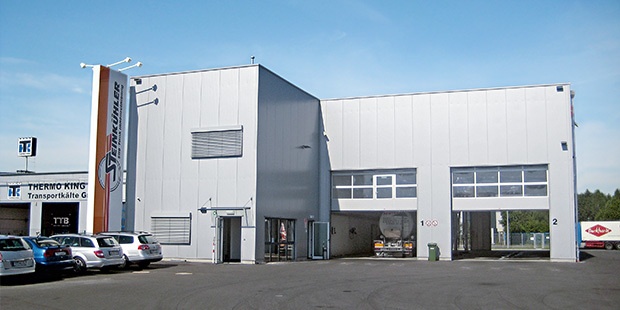 Steinkühler/Germany
The branch in Großbeeren was built and put into operation by Steinkühler in 2011/2012.
The ultra-modern interior cleaning system for silos and tankers located here specialises in cleaning food and food-safe products.
It uses the latest technology for fast, thorough and ecological interior cleaning.
The Kärcher system has two cleaning lines, each with five cleaning heads and power spray head, hot water up to 85°C, chemical insertion, steaming facility and vehicle drying. Heat is recovered from the waste water. Interior cleaning of IBCs is also possible.
Steinkühler is a member of the DVTI (German association for tank interior cleaning) and issues the European Cleaning Document (ECD), which guarantees residue-free cleaning. Moreover, the cleaning systems are certified according to the SQAS, HACCP and ISO 9001:2008.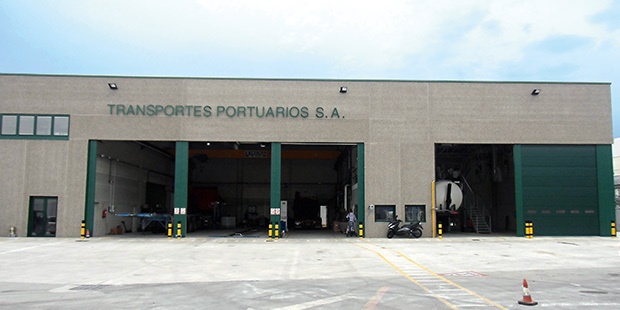 Transportes Portuarios S.A./Spain
The company Transportes Portuarios S.A. was founded in 1963 and has offered high-quality service to its customers ever since. With its headquarters in Barcelona harbour, Transportes Portuarios occupies an area of 10,000 m² in the Polígono Pedrosa de L'Hospitalet, where vehicles can be parked, serviced and refilled.
With its large vehicle fleet, which specialises in transporting liquid and granular food and is subject to the strictest quality and hygiene inspections, Transportes Portugarios has grown rapidly and substantially in recent years thanks to its dedication and hard work.
The tanks for liquids are made of stainless steel and are fitted with the latest systems, including microbiological filters for sterile products, independent pumps, thermometers for recording temperature, and heating systems that prevent heat loss.
The tanks for powdered or granular goods are made of aluminium alloys of the highest quality and are fitted with hydraulic systems for lifting and independent compressors for unloading.
The system was designed for two lines of interior cleaning heads and four HDI 38/12 high-pressure pumps, which produce 15,200 l/h at 120 bar pressure and are fitted with three HKF 200 interior cleaning heads and one HKF 200 C2 interior cleaning head per line. Hot and cold water are supplied from feeder tanks. The system also features a TB 46 gantry car wash, with high pressure and intensive pre-wash.